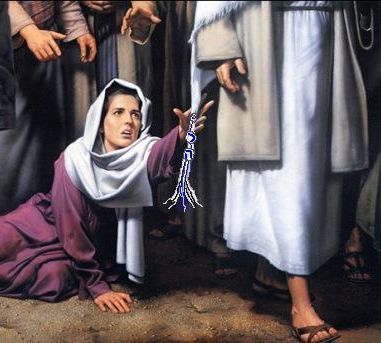 The Tallit
When we discovered the Messianic movement we realized this is where we belong… we were Believers in Yeshua as the Messiah, but we also believed in the power of the Torah. It was through this journey that we learnt more about what we came to know as the Tallit. We wondered, what power does one piece of cloth, a humble shawl have. What is the Tallit exactly? What is its root from and how do we, as followers of Yeshua use it?
The prayer shawl and fringes, figure prominently into many Old Testament and New Testament stories, giving us insight or revelation into the person of many bible stories and people, including Messiah.
OLD TESTAMENT LAW CONCERNING THE TALLIT OR PRAYER SHAWL:
Yahweh said to Moses: Speak to the Israelites saying:
Throughout the generations to come, you are to put a blue thread in the tassels on the corners. And you shall have the tassel that you may look upon it, and remember all the commandments of the Lord to do them, that you may obey them and not defile yourselves by going after your own heart and eyes. Then you will remember to obey all my commandments and to be holy for your God. I am the Lord your God who brought you out of the land of Egypt, to be your God: I am the Lord your God.
Numbers 15:37-41
"You shall make for yourselves twisted threads on the four corners of your garment with which you cover yourself." (Deuteronomy 22;12)

The term Tallit, or talith is two Hebrew words, "TAL, meaning "tent" and ITH, meaning "little." The tallit, when wrapped around the shoulders and pulled over the head forms for the owner a "little tent" or "prayer closet where he may meet privately with God. The Psalmist writes:
"I will dwell in your tent for all ages; I will take refuge in the shelter of the corners of your Tallit."
HEAR O ISRAEL: THE LORD YOUR GOD IS ONE
Bound in the threads of the fringe of the tallit or "prayer shawl," is SHEMA found in Deut. 6:4, in which God commands: "Hear O Israel, the Lord your God is one Lord."
How do we know this? The Hebrew words Yevovah Echad, meaning "God is one;" are numerically formed by the number of knots and wrappings in the tzitzit or fringe, which God said to "look at," and remember His laws and not to sin against Him.
The knots and wrappings themselves, also spell out SHEMA. Messiah Yeshua, the God manifest in the flesh, is the garment or tallit of our souls. In Romans 13:14 we read: "…Put on the Lord Jesus Christ, and make no provision for the flesh, to fulfill its s." When we receive His forgiveness, and obey His commands we are wrapped in the shekinah glory of God. We are sons of light, filled with God's "light." Yeshua said: "He who has seen Me has seen the Father…" (John 14:9)
The tzitzit with the blue thread represents first of all that God is one! Messiah is not an appendage. The great God Himself, robed Himself in the flesh of Messiah. Through proper relationship with God, through the atoning of Messiah Jesus, God's precious Lamb, which takes away the sins of the world, (Romans 3:23-26, Romans 6:23, Acts 2:38, 2 Cor. 10:3-7, I John 2:2, I John 2:1, 4:10, ) we walk in His power and authority.
One of the things Messiah Yeshua taught us, is found in Matthew 6:6:
"But you, when you pray; enter your prayer closet and when you have shut the door, pray to your Father which is in secret; and your Father which is in secret will reward you openly."
According to divine command, each tassel of fringe was to have "a blue thread." In bible times, this hue was one the most expensive to produce. It was obtained from a species of snail called Murex trunculus, or Chilazon. It took some 12,000 of these to fill a thimble with blue dye. This small animal's body contains a gland. Once the gland is removed and exposed to oxygen, the liquid within the gland goes through a chemical reaction in which it is transformed from it's original clear color, to yellow, then green, to a turquoise color, aquamarine, then blue and finally deep purple. The liquid was dried and became a powered dye. In scripture, Lydia, a resident of Thyatira; being a seller of purple, would have been a wealthy and influential woman. The clients who purchased garments or fabric from her, were the very rich. (Acts 16:14-16:40)
This color was so expensive, that all but royalty were to wear it. When Yeshua haMashiach returns riding in the heavens on His majestic white war horse, he will have "glorious" kingly garments.
Who is this that comes from Edom, with dyed garments from Bozrah? This glorious in His apparel, traveling in the greatness of His strength? I that speak in righteousness mighty to save. (Isaiah 63:1)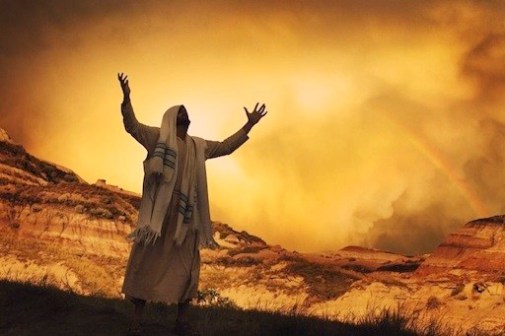 For God to place the command in scripture, commanding his people to make the fringes with the blue thread, He was saying in effect: You are a kingdom of priests to Me. This is echoed in Rev. 1:6: "He has made us a kings and priests (lit. "a kingdom of priests") unto God and His Father; to Him be glory and dominion forever and ever." The scriptures also teach that it was a violation ordinarily for one to mix two fibers such as wool and linen. The fringes were to be made of wool, but this blue thread was to be made of linen. So only in this instance, did God allow this to be done.
HEALING IN HIS WINGS (MALACHI 4:2)
"But unto you that fear My name shall the sun of righteousness arise with healing in His wings." (Malachi 4:2)
The phrase, "Sun of righteousness," is a picture of Messiah, who is the "Bright and Morning Star." The fact that Messiah wore a tallit with tzitzit or fringes, like other Jewish men, is clearly understood from such scriptures as Matthew 9:20, and Matthew 14:36. When you wrap the tallit about you, holding two of the corners out, it forms "wings." Many times, the Lord speaks in scripture, of His dependance upon His Father, as our Redeeming Lamb. Were He not the obedient Servant, He would not be the "Light of the World." (John 8:12) He came in the glory of His Father. His prayer life was so profound, that His disciples observing Him, said: "Lord, teach us to pray." (Luke 11:1)
Long before Messiah was crucified, resurrected and ascended, He walked in power and authority, healing the sick, casting out demons, raising the dead.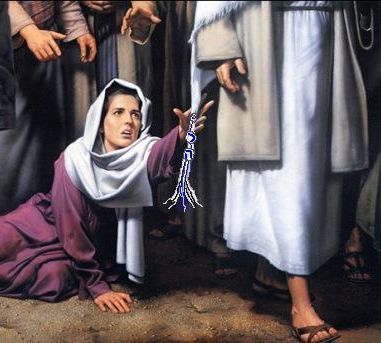 "And suddenly a woman who had a flow of for twelve years came from behind and touched the hem of His garment" (Matthew 9:20).
…" came from behind and touched the border of His garment. And immediately her flow of blood stopped" (Luke 8:44).
… "and begged Him that they might only touch the hem of His garment. And as many as touched it were made perfectly well" (Matthew 14:36).
"Wherever He entered, into villages, cities, or the country, they laid the sick in the marketplaces and begged Him that they might just touch the border of His garment. And as many as touched Him were made well" (Mark 6:56).
Yeshua haMashiach as our Messiah, was a man of prayer. He prayed with "all manner of prayer." He spent entire nights in prayer. His life was characterized by what many today call "prophetic prayer." As He prayed He saw things prophetically before they actually happened. He did the things which God commanded Him to, as they were seen through the eyes of His spirit.
But I have a greater witness than that of John: for the works which the Father has given Me to finish, the same works that I do, bear witness of Me, that the Father has sent Me." (John 5:36, Psalm 103:3, Matt. 9:35, John 12:49, Matt. 10:8, Mark 16:17) Our western culture, with it's propensity to lean upon what is intellectual, as opposed to the life of the Spirit which can only be borne of prayer, and the study of God's word and obedience to His Spirit; would do well to imitate the Saviour's life of humble dependence through prayer. A favorite verse of God's intercessors is Isaiah 40: 31.
PRAYING AT ALL TIMES IN THE SPIRIT (JUDE 20)
Jesus was extremely cognizant of His disciples needs. He prayed for them individually. (Luke 22:31) He taught them to pray. (Matthew 6:9)He rebuked them for prayerlessness!!! (Matthew 17:21)
"And the Lord said: Simon, Simon; behold, Satan has desired to have you, that he may sift you as wheat. But I have prayed for you, that your faith will not fail. And when you are converted, strengthen the brethren. (Luke 22:32)
The Lord taught His disciples about the importance of protracted prayer.
As our Great High Priest, the scriptures teach us that "He ever lives to make intercession." How does He do this? I believe that one way, is as the:
"Spirit prays through the believer. The Spirit helps our infirmities. For we know not how to pray as we ought, but the Spirit itself makes intercession for us for groanings which cannot be uttered. And He that searches the hearts, knows what the mind of the Spirit is, because he makes intercession the saints according to the will of God." (Romans 8:26-28)
And Jesus rebuked the devil; and he departed out of him: and the child was cured from that very hour. Then the disciples came to Jesus and said: Why couldn't we cast him out. And Jesus said: Because of your unbelief: for I said to you, If you have the faith of a grain of mustard seed, you will say to this mountain, remove to yonder place and it shall remove, and nothing shall be impossible to you. Howbeit, this kind goes out but by much prayer! (Matt. 17:21)
Because Yeshua wore his tallit, the border or hem of Yeshua's garment had a particular appearance to it, due to the way in which the tallit was folded. This caused the corner tassels of the fringe to hang down. Taking hold of the "skirt" of him that is a Jew, speaks of taking hold of this outer or extended "wing" of the garment, which holds such deep significance. Why? Because it speaks of prayer.
When is a Talit worn?
Morning prayers Num 15:38-39
Torah readings Saturday, Monday, Thursday
Yum Kippur (and some other holiday and services)
Special occasion such as circumcision, bar mitvah,
wedding (used to sometimes make a canopy over the couple)
Burial (a Jewish man is wrapped in it when he is buried)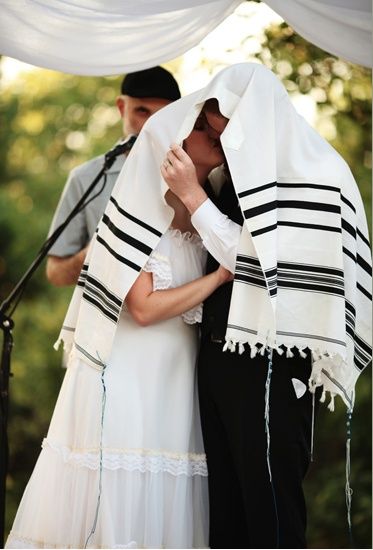 You shall make for yourselves twisted threads on the four corners of your garment with which you "cover yourself." (Deuteronomy 22;12)
Shalom!
Soraya Moreau
Ambassadors of Yeshua
#tallit #prayershawl #christianblog #ambassadorsofyeshua #ministry #reachingout #christianevangelism